If you've always wanted to try making bagels….YOU HAVE TO READ THIS!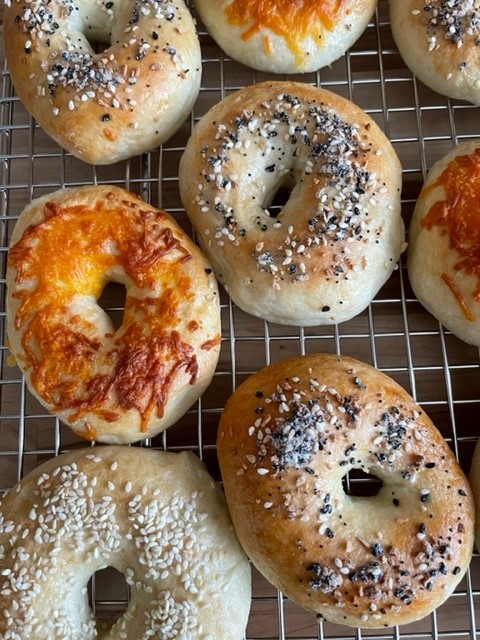 Making bagels is a process.
Not a complicated process.
Just a process.
Having made bagels from scratch, I was delighted with how they turned out but was not overly enthused about rushing back to bake them again because of the time they took to make. However, we loved homemade taste over store-brand bagels, so I planned to save the recipe for another day when the bagel-baking urge struck again.
That was then…..
Now…
I had to try the bagel process with these frozen rolls, and if I haven't already convinced you to try this – the last picture in this post may be the "convincer"!
I grabbed my bag of Rhodes Bake-N-Serv® Texas Rolls and my Raisenne XL Dough Riser ® and dove in.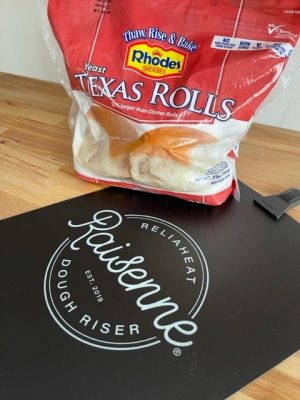 To best share how the Raisenne XL and Rhodes Bake-N-Serv® Texas Rolls worked beautifully together, I started the process with two pans – one with the Raisenne XL and one without.
Using quarter-size sheet pans, I placed equal amounts of frozen Rhodes Bake-N-Serv® Texas Rolls on each with the pan on the right side, utilizing the Raisenne XL.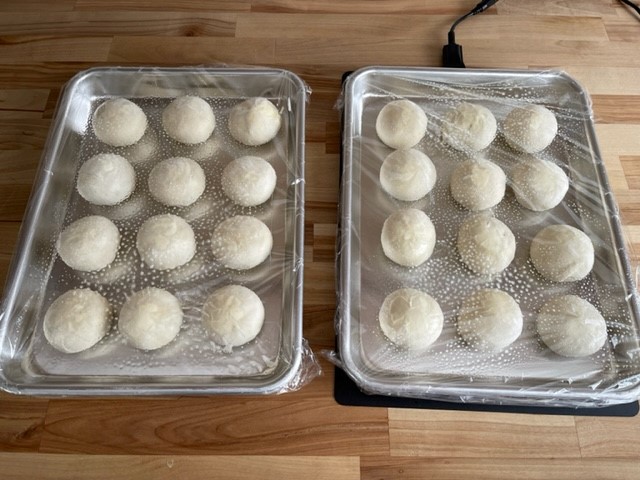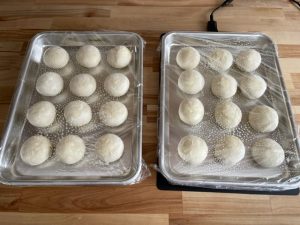 Both pans were ungreased, and each was covered with plastic wrap that had a light coating of non-stick spray. I then covered each with a towel.
At this point, I simply wanted them to thaw and just at a point where they would begin to rise – The Raisenne XL pan was ready in 1/2 the time as the pan without!
The shaping process began with the pan placed on the Raisenne XL. The pan without the Raisenne XL was not ready until 45 minutes later.
I was already seeing a significant time savings!
The best time to shape the rolls is when they are thawed and at room temperature. At that time, I was able to softly press into each one with my fingertip and not feel a coolness.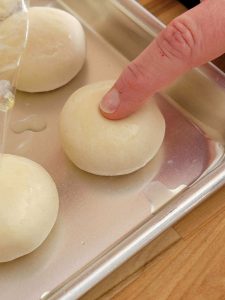 The rolls were now ready for their "forming."
The first step was to pinch a hole with two fingers in the middle and begin the shaping process by spinning between two fingers.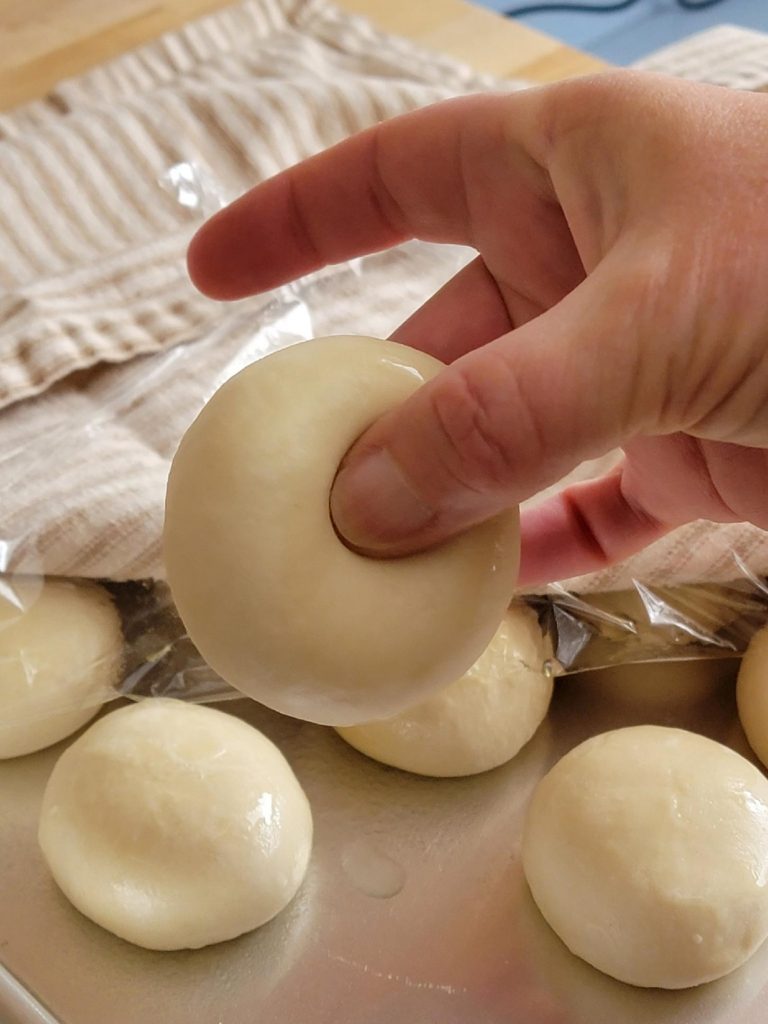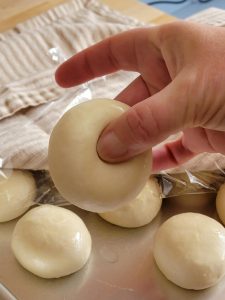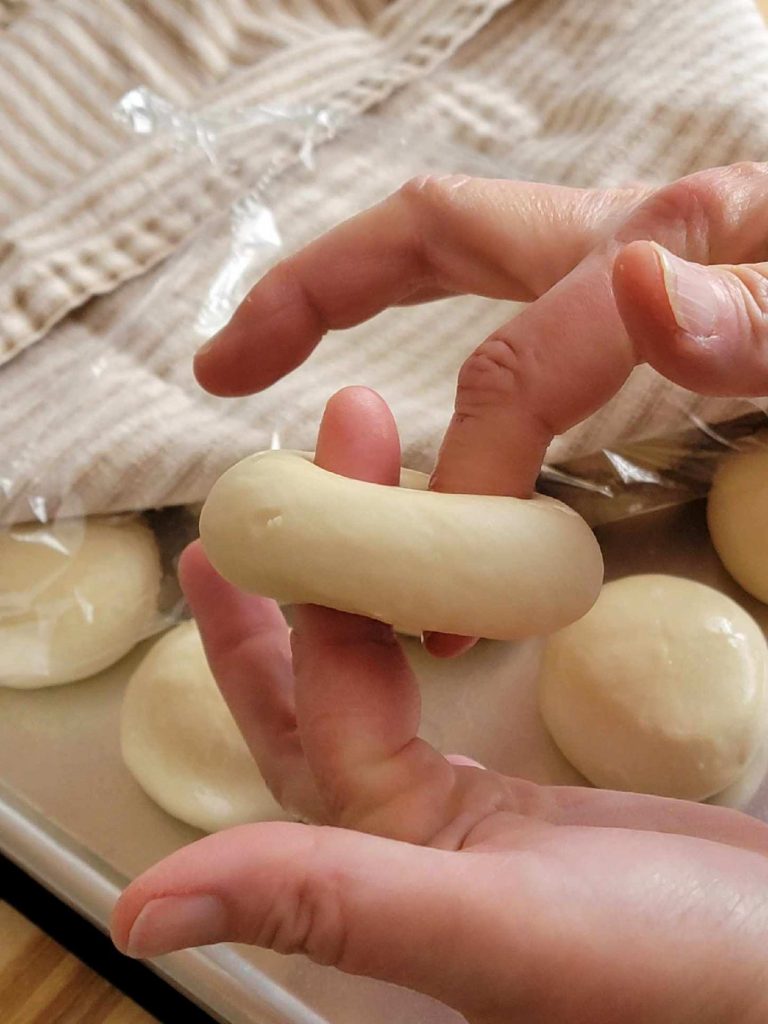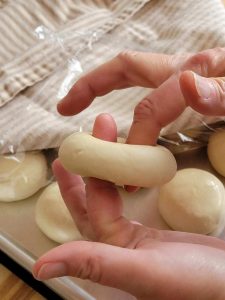 I recommend making the hole more significant than what you imagine, as the formed bagel will rise and could fill in your beautiful bagel shape! Mine were approximately 3″ in diameter before proofing.
The shaped bagels were then placed back on their respective pans with parchment or a light greasing (I used a Silpat baking mat), covered in the same cling wrap, and draped with a towel for proofing.
After 30 minutes, I noticed that the Raisenne XL pan on the right was proofing much faster!
Bagel-making was already faster and easier with the Raisenne XL!!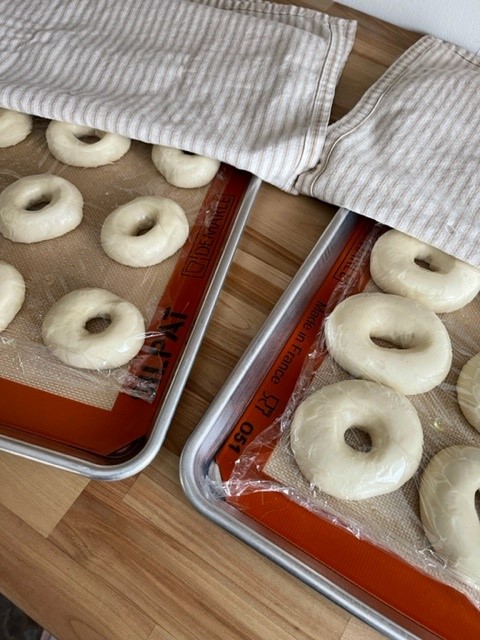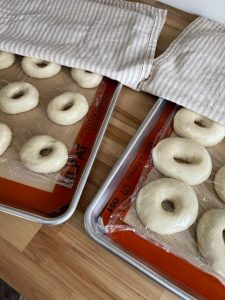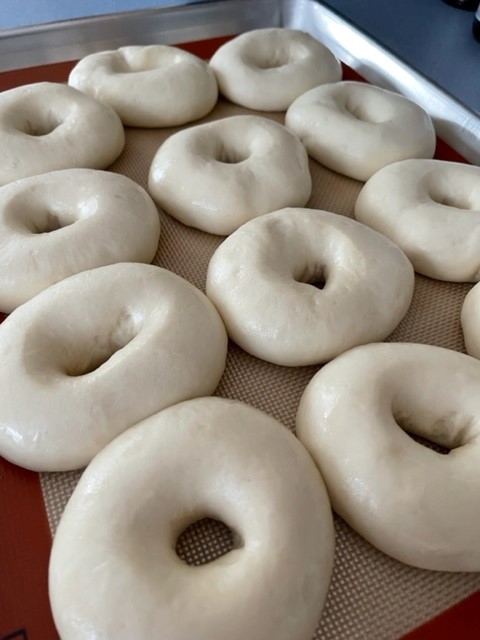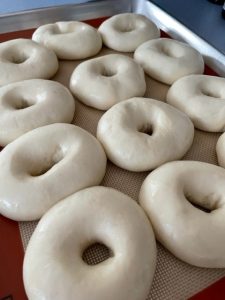 I made sure to proof slightly less than double in size as I wanted them to stay a bit heavier and chewy.
Next it was time to boil the proofed bagels.
Using a large pot filled approximately 2/3 full with water, I boiled two to three proofed bagels at a time for 90 seconds on each side.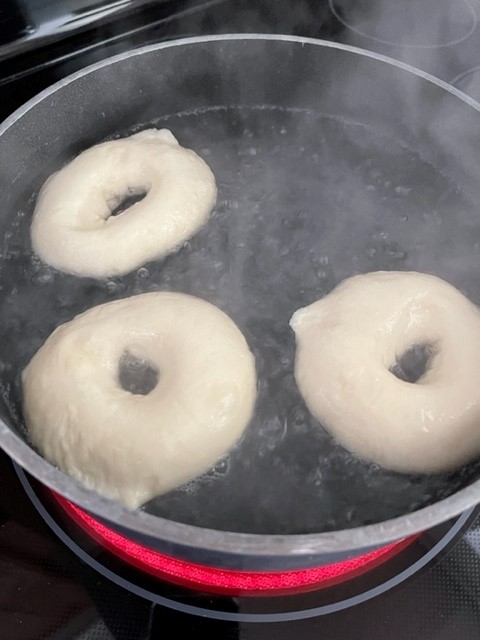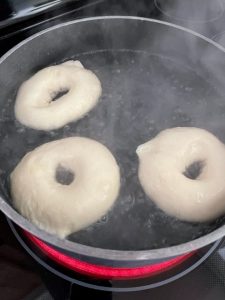 I removed them with a large slotted spoon to a wire cooling rack when the boiling was complete. While the bagels rested, I prepared my toppings with small bowls of sharp cheddar, Everything Bagel seasoning, and sesame seed. You can choose ANY topping you wish!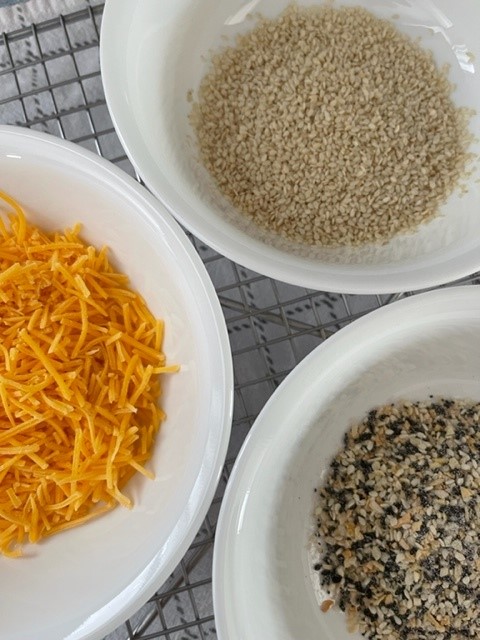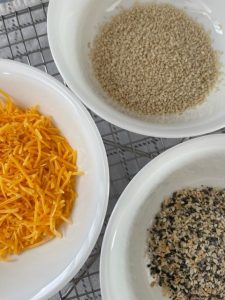 I gave each bagel a simple egg wash and sprinkled the toppings generously on each one. I placed them back on the baking sheet (lightly greased or covered with a Silpat or parchment paper) and baked them at 350° for 20 minutes. I checked for a slightly brown surface and turned the pan for another 5-10 minutes. (Your oven temperature may differ, so watch them carefully).
The first thing I noticed was the delightful smell coming from the oven, and when I removed them to cool on a wire cooling rack, they were gobbled up in minutes with rave reviews!
The Rhodes Bake-N-Serv® Texas Rolls baked up soft, chewy, and delighted us with a wonderful homemade taste that I will not hesitate to make again.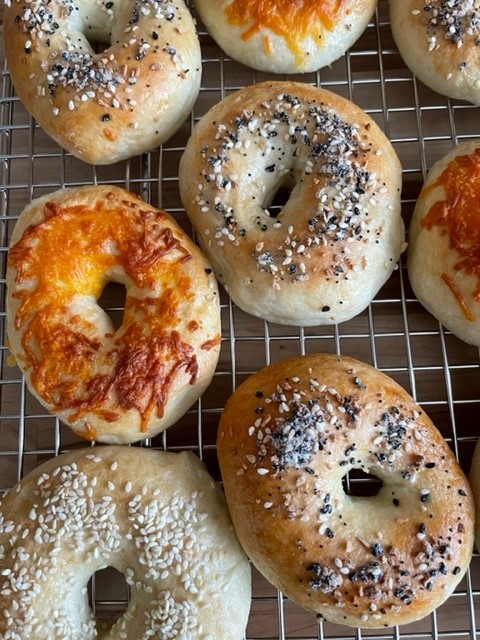 Try with or without a "schmear" of cream cheese, toasted, or just plain…they are AMAZING and bake up so easy that you will find yourself making these often!
This bagel-making process works equally well with any frozen dough, and whether you are making bagels, rolls, or loaves of bread, the Raisenne XL will make the thawing and proofing process quick and easy!
As a matter of fact, the Raisenne XL proofed bagels were boiled, seasoned, and baked before the non-Raisenne pan was ready to boil!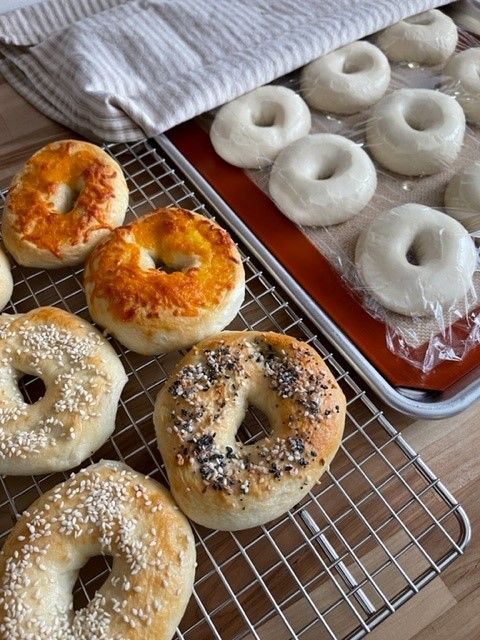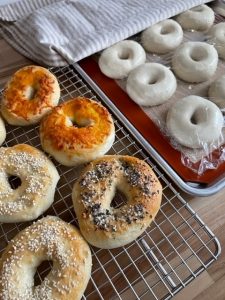 Now that you know how wonderfully easy it is to make bagels with Rhodes Bake-N-Serv® Texas Rolls – give them a try!
 Whether you prefer your own homemade bagel dough recipe or wish to explore the many amazing uses for Rhodes Bake-N-Serv® frozen dough products, the Raisenne XL will help you achieve the perfect proof every time!
Explore more fantastic recipes with Rhodes Bake-N-Serv® dough products at:
And order your Raisenne XL or the original Raisenne at: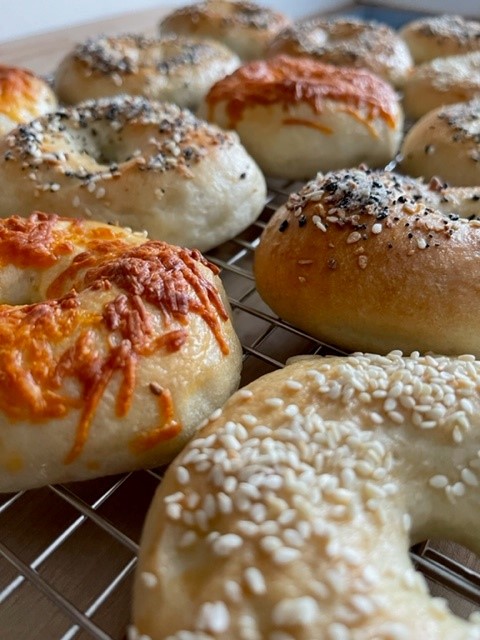 Tell us about your favorite frozen dough recipe or bagel technique
and
Happy Baking with RAISENNE!
************************************************************************************************
MORE BLOG POSTS YOU WILL ENJOY
Like this blog post?
SUBSCRIBE FOR THE LATEST RECIPES AND NEWS