Q&A with Home Baker Carlton Washburn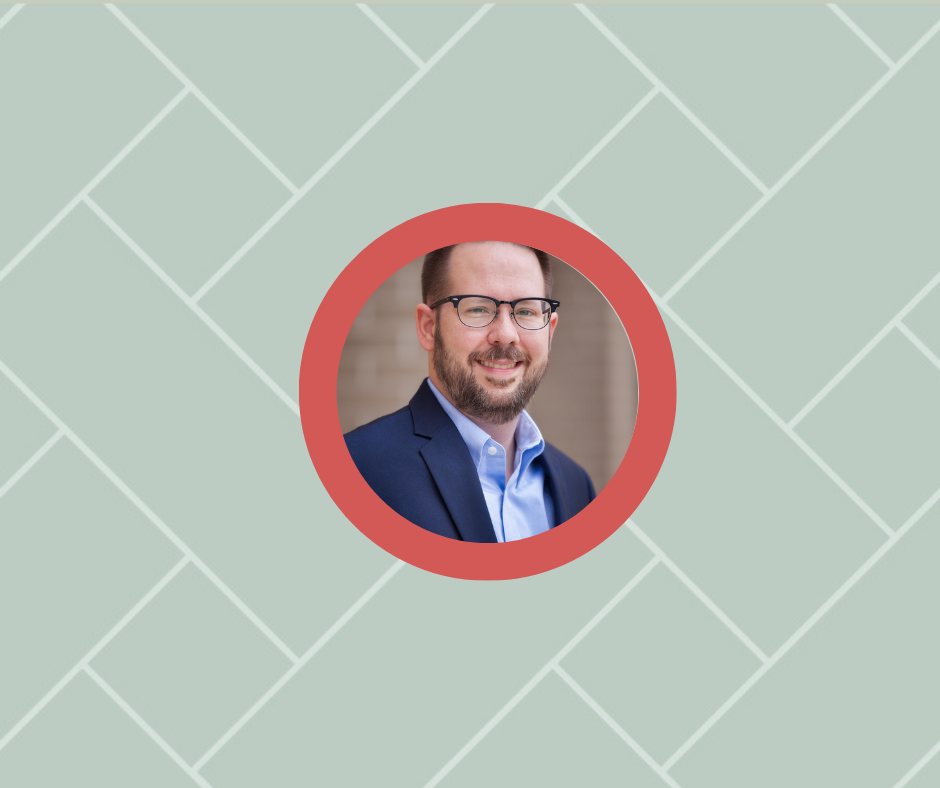 Meet Carlton Washburn, a Missouri baker who is turning up the bread baking heat in his kitchen with the Raisenne Dough Riser!  We had the opportunity to chat with Carlton to find out how a birthday gift from his wife has made his life in the kitchen just a little bit easier.
As a baker who has been intrigued with the process since childhood, Carlton shares his bread baking skills and experience that will surely inspire us all!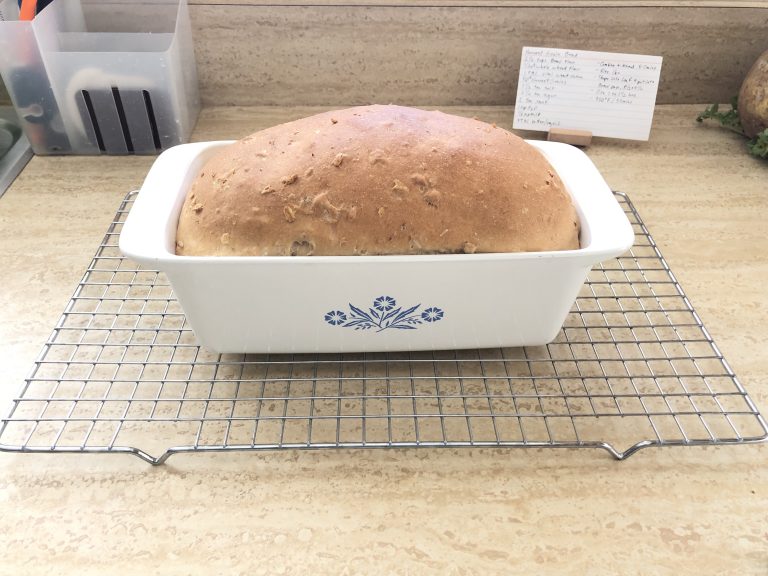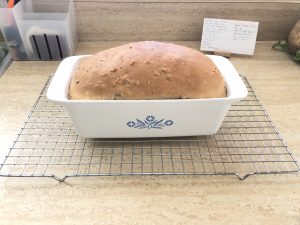 When did you start baking?  What sparked your interest?
I started baking at a young age helping my grandmother.  She taught me to make an apple pie from scratch.  I was fascinated how ingredients came together and through the baking process transformed into something that was 'more than the sum of its parts'.  Where an apple is kind of boring by itself, when apples are incorporated into a pie it was exciting!  That transformation was magical to me as a child.
What is your favorite thing to bake?
My mother showed me how to make Supfe (also Zopf or Züpfe) which is a Swiss 'milk' bread.  It's a dense braided bread that four generations of my family have made.  That tradition started with my aunt who brought the recipe and knowledge from her time spent in Switzerland.  It's my favorite bread to bake because of the memories associated with it.  The smell and flavor are unique because of the significant milk and butter in the recipe.

What are your baking inspirations?
I come from a family of farmers, laborers, people that worked with their hands.  The connection to the past is a large part of my inspiration.  I look for recipes and baking processes that have ties into history.  For example through the pandemic yeast was hard to find.  So I shifted to older processes using very small amounts of yeast that proofed overnight.  The flavor comes from the molecules generated during overnight fermentation.
How did you hear about the Raisenne Dough Riser?
My wife is wonderful at finding great gifts.  She purchased a Raisenne Dough Riser for my birthday.  It was a wonderful surprise!
What have you used the Raisenne to bake so far?
I've been working on a non-dairy and non-egg recipe for a friend of mine.  Her young daughter has food allergies and has a limited diet.  Many bread recipes use eggs, butter, or milk to increase the complexity and flavor.  I wanted to make a flavorful bread that aligned with her diet needs and was soft so that a child would enjoy it.  I adapted a grain-loaf recipe that uses a blend of flours and grains to generate flavor, with a base of bread flour that provided the soft texture.  Water and olive oil are the only wet ingredients, which respects the food allergies.  The Raisenne was key to solving a proofing issue.
What was your biggest baking issue before the Raisenne?
Making a soft bread with multiple flours can be tricky.  Wheat flour can have proofing issues due to strength challenges from the lack of gluten.  Consistency is hard to maintain too.  When I tried proofing in a warm oven the top of the bread would loft high and the bottom of the loaf would be dense.  In other words, big holes on top and tiny holes on the bottom.  This makes it hard to spread butter or jelly, or maintain structure for a sandwich.
The Raisenne solved my proofing problem.  With a gentle warmth from the bottom of the baking pan the bread rose consistently.  By working from the bottom the Raisenne compensated for the heat-sink effect of the baking pan.

Is there anything you haven't baked with the Raisenne yet but you are wanting to?
Oh yes, the list is very long!  Probably a rustic loaf next…
Do you have any helpful tips for new Raisenne bakers?
Bread is a process and it can take a few experiments to get what you want.  Have fun trying something new!

Any last thoughts on your Raisenne experience?
It's been a great experience and a wonderful product.  Thanks for bringing it to market!
As a special treat, Carlton is sharing his Grain Loaf recipe for all to enjoy!
 Happy Baking!
Grain Loaf
2 1/2 cups Bread flour
1/2 cup Wheat Flour
1 Tablespoon Vital Wheat Gluten
1/2 cup 7-grain cereal mix
1 1/2 teaspoons Salt
2 1/2 tablespoons Sugar
2 Teaspoons Yeast
1 & 1/4 cups Warm water (~100°F)
3 Tablespoons Olive oil
Proof yeast with warm water and sugar. Mix remaining ingredients and knead for 5 minutes in a stand mixer.  You may need to add a tablespoon or two of extra flour for the dough to pull together, and it will be a wetter dough. 
Shape into ball and let double in a covered bowl for 30 to 60 minutes. (The Raisenne is helpful here)
Fold and shape, placing in a greased loaf pan.
Cover a rise until above the edge of the pan, about 45 minutes. (This is where the Raisenne is critical)
Warm oven to 350°F and bake for 35 minutes.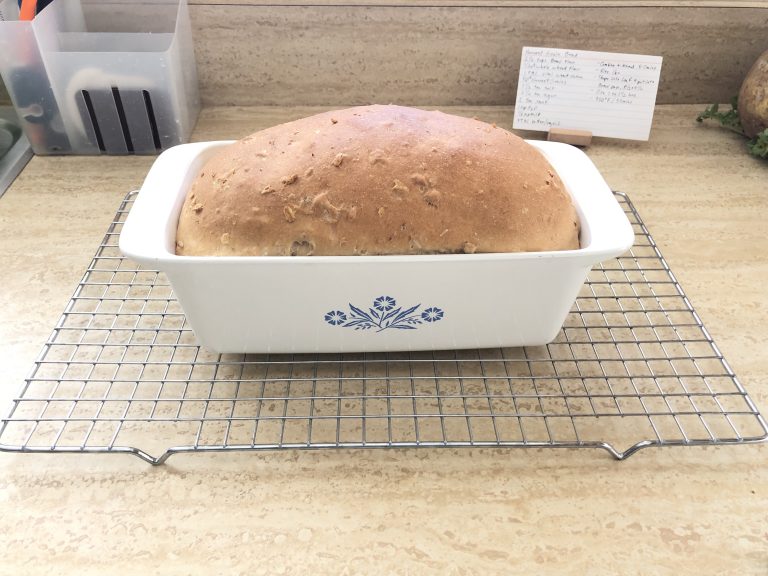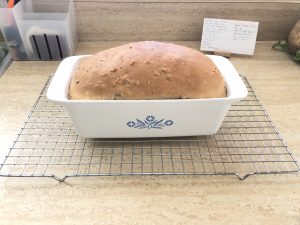 Like this blog post?
SUBSCRIBE FOR THE LATEST RECIPES AND NEWS