Sourdough Potato and Ale Burger Buns Recipe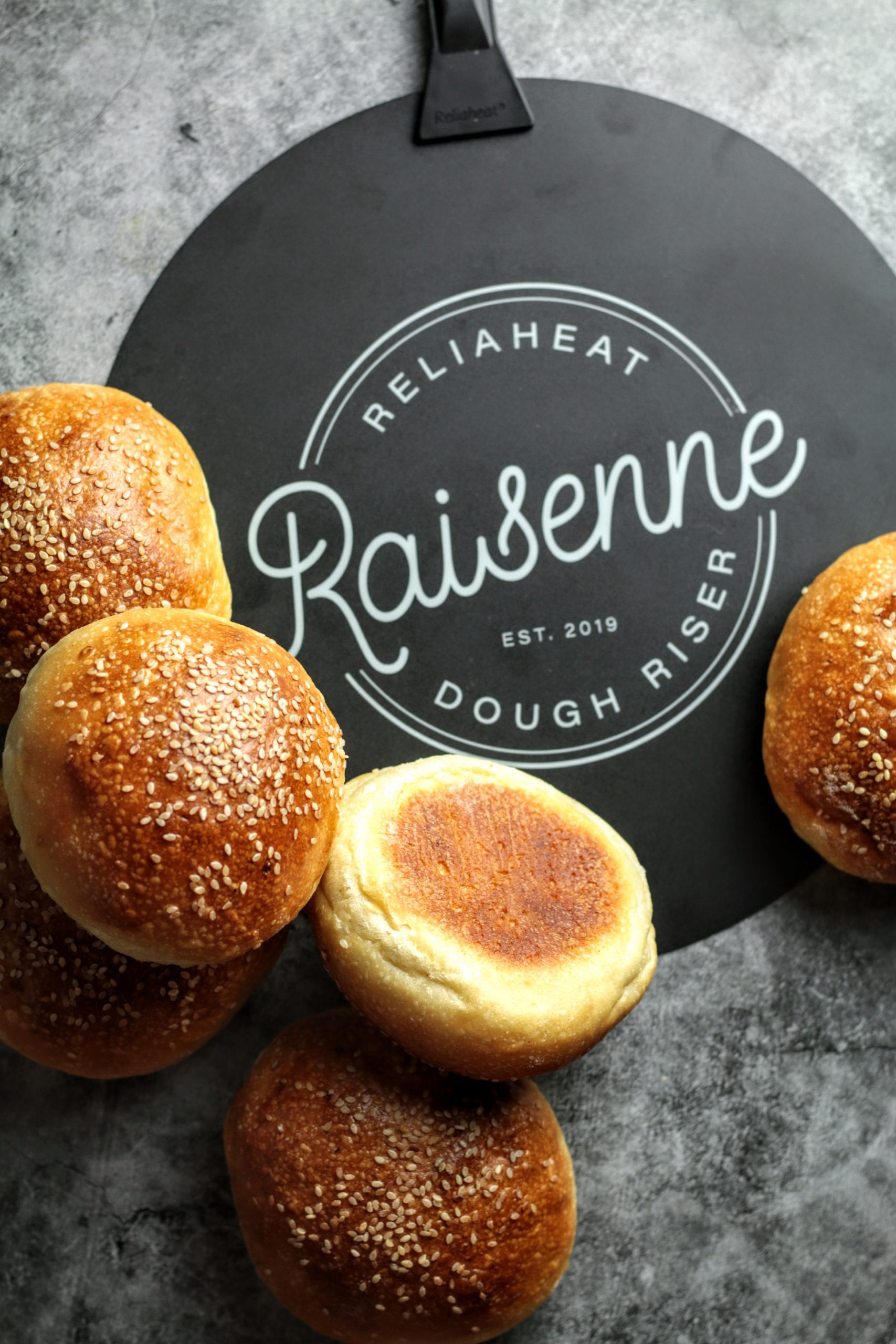 Want to take your burgers to the next level? These sourdough potato and ale burger buns will do the trick. This recipe is from our friend Vindi, @vindiskitchen on Instagram. Vindi dedicated three years to studying baking/pastry making in Australia before becoming a baker and pastry chef. Currently a software engineer in Seattle, Vindi loves to bake in her spare time!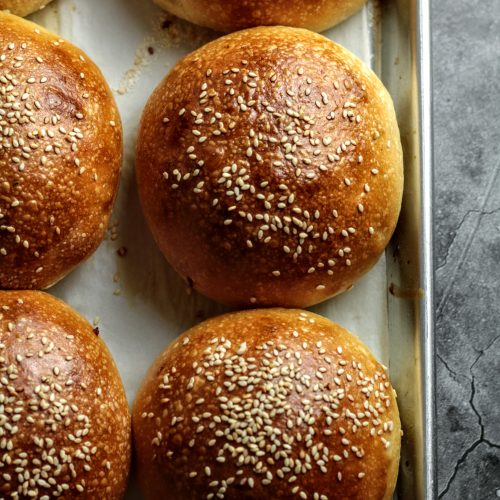 Sourdough Potato and Ale Burger Buns
A flavorful bread roll leavened using 100%sourdough starter. The little ale used in the recipe gives it extra flavor. Not only do the potatoes add another layer, they also give this roll a softer crumb. You can use any starchy potato for this purpose – make sure to boil them until very soft. When mashing the potato, it's okay to have a little lump left here and there. If you have rendered bacon fat, use that instead of the butter, as this will give the roll a smokey flavor.
Ingredients
For the rolls:
400

g

all-purpose flour

+extra for dusting

100

g

boiled potatoes

mashed

1

tsp

salt

80

g

active fed sourdough starter

2

tbsp

honey

40

g

soft salted butter or bacon fat

1

small

egg

50

g

milk

40

g

pale ale (beer)

50

g

extra water (varies - see recipe instructions); you can save the water from boiling the potatoes and use it in the dough to elevate the potato flavor
Instructions
To make the dough, put everything except water into a bowl of a stand mixer. Use the dough hook to mix the dough.

Start mixing and add water gradually, as you might not need all the water.

When everything starts to come together, continue to mix on low speed until a dough is developed (about 2 minutes).

Scrape down the sides of the bowl. This dough might be a little sticky!

Cover the bowl with a tea towel and let the dough rest for 15- 30 minutes.

Mix the dough on medium for another minute or two, using flour to help release the dough from the sides of the bowl (should not take more than 4 minutes).

Dump the dough onto floured surface and finish off kneading by hand. Use water or oil to lubricate your hands. Use slap and fold motion and use a little flour to help if necessary.

Form the dough into a smooth ball and place in a glass bowl/container.

Cover and place in a warm place for bulk fermentation (proofing). If using a Raisenne Dough Riser, place the container on the Raisenne Dough Riser, as it will help the dough bulk faster.

After an hour into bulking, give the dough a coil fold. If in a cooler place, the total bulk may take about 4 hours or longer.

Once dough has almost doubled in size, punch it down.

Round up the dough to a tight ball. Place it in a container with a lid. Cover tightly and place in the fridge until next day.

The next morning, take the container out and let it sit for about 5-10 minutes until the dough is soft.

Then divide the dough into 8 equal pieces (roughly 100g each).

Shape the dough pieces into rolls (dough balls).

Once shaped, place on a tray lined with parchment and press rolls lightly to flatten them a bit.

Spray a little water using a spray bottle (or use whatever method you usually do to generate steam).It's okay to not have steam too!

Bake for 10 - 12minutes and check on them. Rotate the tray if necessary.

Reduce temperature to 400° F and bake for another 5-8 minutes. If they are not done, leave them in for another 5 minutes. The tops of the rolls should be golden brown, and they should be much lighter in weight. The bottoms should have a light browning as well.

Once baked, let the buns cool down on a rack.

Now they're ready to serve. These will make the most delicious burgers!
Like this blog post?
SUBSCRIBE FOR THE LATEST RECIPES AND NEWS