The Problem that Sparked Raisenne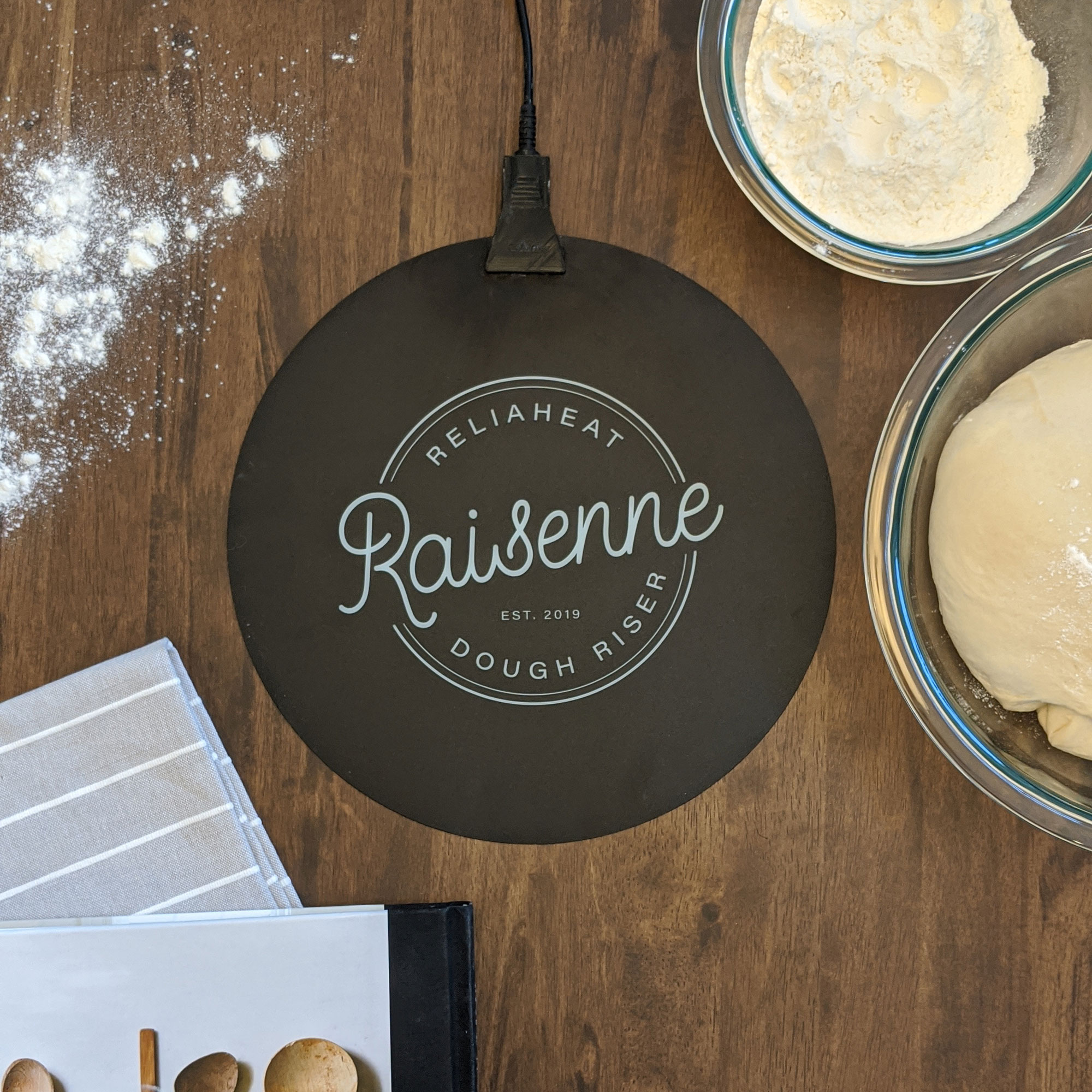 The Raisenne Dough Riser creates the ideal temperature to raise dough for a perfect proof in less time. Have you wondered how this innovation came to be? Or how a printed electronics company came up with the idea to sell a dough riser? We talked to Mark Ester, President and CEO of parent company Reliatrace, and Joan Prissel, Customer Account Manager and Recruiter at Reliatrace, who came up with the idea for Raisenne. Together they helped shape what Raisenne is today.
Raisenne was created by Reliatrace, a company known for designing and manufacturing reliable printed electronics and printed heating applications. They typically make business-to-business products, but Mark wanted the company to have a direct-to-consumer product. When asked about what inspired him to develop a product for consumers, Mark said, "I've been in the business for 28 years. I have always wanted to create something direct-to-consumer. With our new printed heater technology, we have the capability to design products for the direct-to-consumer market."
Mark cites the time he thought about using the electroluminescent lighting panel technology his company developed for nighttime cabin viewing of dials and switches in John Deere machinery for direct-to-consumer applications, but we never had an idea we thought would be appropriate. But Mark was determined to create something new with Reliatrace's technology. "I was thinking, 'We've got to find something we can sell to the consumer!'"
Reliatrace made brainstorming a collaborative effort, and all of the company's employees, from engineers to assemblers, were encouraged to contribute ideas. One idea that was considered, was a seat heaters for stadiums. "However, we couldn't do the padding and metal frame," he said, "We wanted something completely in-house." Eventually, a group of six people was put together to come up with something Reliatrace could manufacture themselves.
Around 80-90% of the ideas they brainstormed got thrown out. Behind what would become Raisenne, the second most popular choices were for products related to beekeeping and keeping chickens! Reliatrace also thought about doing something with terrariums, but these ideas were all ruled out because of the small markets they'd appeal to.
One of the six people helping brainstorm ideas was Joan Prissel. Joan came up with the idea for what Raisenne is today. When asked what her biggest inspiration was, she said it was her baking struggles at home. "The temperature of my house was not conducive to my recipes. The inconsistency prevailed," Joan explained. "I was using a stoneware bowl in hot water to proof dough. It worked, but only for about 15 minutes, which made me wonder, 'How can I extend this 15-minute perfection to an hour or two?'"
Raisenne emerged as a solution to Joan's problems. With Reliatrace's printed heating circuitry, it helps proof dough quickly and consistently. "Raisenne does what my stoneware bowl experiment did for me but for a longer period of time," Joan laughed. "I was fully aware of the proofing box, but honestly I did not want to spend $200 for something that my good old stoneware bowl would do as a last resort. Plus, the big proofing box would likely end up on the lower shelf in my kitchen cabinet, never to come back up again." Reliatrace wanted Raisenne to be at a more accessible price point and easy to store.
With the emergence of the COVID-19 pandemic came quarantining at home, which led to a spike in home baking. The trend was the perfect opportunity for Raisenne to make its debut to consumers. "I was intrigued by the trend of baking bread during quarantine. It felt like because people were stuck at home, they went back to being pioneers in a way," said Joan. "People were looking for things to learn or challenge themselves with, and flour was easier to come by than toilet paper!" she laughed. "With baking, you don't need anything fancy, it's fun, and in the end, you're proud of yourself."
Mark also saw the opportunity because of quarantine. "People are baking more because they are home and have more time," he said. Mark plans on expanding upon Raisenne to include other direct-to-consumer products, teasing that he already has second and third product ideas in mind. "My wife often makes cake pops, but the little candies that she melts to use as icing never melt consistently," he said. "Maybe we can create something to solve that problem."
Raisenne started as a solution to a baker's problems but grew into so much more than that. It's a dough riser that helps people proof dough quickly and consistently without being too bulky or expensive. The people behind Raisenne are extremely passionate about it and hope you love it as much as they do. "It's an outside-the-box item – literally!" Joan said. "We are thinking outside the proofing box."
If you'd like to try Raisenne for yourself, you can shop here. If you bake something using Raisenne, we'd love to see it! Share a photo with the hashtag #bakedwithraisenne and tag us on Instagram.
Like this blog post?
SUBSCRIBE FOR THE LATEST RECIPES AND NEWS